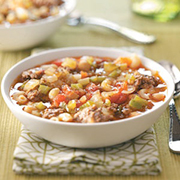 By Wini Moranville
"There's a long stretch in the late winter, after Valentine's Day and before spring, that can seem kind of bleak," says Slow Food Des Moines board member Elisabeth McLaury Lewin. She and her fellow slow food-istas have just the cure for that: The Slow Food Des Moines Winter Soup Potluck.
The potluck will be Feb. 22 at 515 Brewing Co. (7700 University Ave., Clive; 661-4615), from 2 to 5 p.m. Everyone's invited to this free event, as long as you bring a soup, salad,or dessert to share (plus the utensils needed for sharing). Bowls, plates, cups, silverware and non-alcoholic beverages will be provided, and beer will be available for purchase.
Prizes will be awarded for the best soups, with all diners casting votes. Expect some mighty fine entries: "The Des Moines slow food community is fortunate to have so many creative and skilled cooks and professional chefs among its ranks," McLaury Lewin says.
Interested? McLaury Lewin encourages you to come whether or not you're a Slow Food Des Moines member. "Bring a friend. … make your favorite dish, and just come! If you like good food and good company, you'll fit right in," she says.
For more details, check out the Slow Food Facebook page or email the organizers at DesMoinesIA@SlowFoodUSA.org.