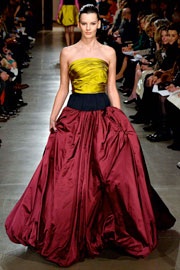 By Belle Du Chene
I had the opportunity to spend a week in New York during Mercedes-Benz Fashion Week. Upon returning to the comfort of a clean, nearly noiseless (in comparison) Des Moines, a few thoughts linger on what I saw at Lincoln Center: the lack of diversity on the runway, the crazily underdressed celebrities who bared skin in frigid temperatures for the cameras, and, of course, the trends. Here are a few that caught my attention:
More is more. Coats and sweaters by Oscar de la Renta and Marc Jacobs were oversized. The finale dresses by Christian Siriano were so voluminous that the folds of fabric nearly hid the waif-like stature of the models who wore them. This is great news for us in Iowa–at least during the brutal winters.
Sequins were an eye-catching design element that when strategically placed added a glamorous effect to the looks. We first saw this at the Chanel show in Paris, and I was happy to see the New York designers follow suit. But, I'm a little nervous to see how this trend will trickle down to the ready-to-wear market in the Midwest: A little sequin can go a long way and could easily be overdone. Remember the "bling" fad?
Finally, the naturalness of the makeup and hair was refreshing. Designers chose a pale lip and rosy cheek to keep the focus on the clothes, with the exception of the eye, which was outlined in a thick liner at some shows. The hairstyles were so simple they were practically forgettable, with hair let to flow long and loose or in simple ponytails. I'd like to see this trend filter to the Midwest; you'll definitely see a focus on simple beauty on the pages of dsm magazine!
It will be interesting to see how these trends and more come to Des Moines. With more than 300 shows and presentations, it's impossible to see everything and even harder to condense everything to the page of dsmWeekly. Let us know what you thought of the show coverage on our Facebook page.