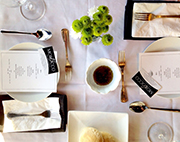 By Wini Moranville
What makes pop-up restaurants so much fun for the diner makes them somewhat frustrating for the food journalist. Although their moving-target menu keeps them fresh and unpredictable, it's hard for us writer-types to give specific recommendations (as in, "you must order the ______.").
But I can say this: Follow Little Morocco on Facebook, and if you catch wind of a pop-up dinner, gather a group of your favorite food lovers and sign up.
You may know of Little Morocco for its pastries, sold at the Downtown Farmers Market on most Saturdays. Husband-and-wife duo Taoufik Assaidi and Jenna Irving own the business; while she's the pastry chef and baker, Assaidi is the Moroccan behind Little Morocco. The Casablanca-born chef received a culinary diploma at the Hotel Institute of Management and Tourism in Agadir, Morocco, and worked as a chef in Calgary and Montreal for 10 years before moving to Iowa.
The pop-up dinner I attended earlier this month started with one of those fresh and simple salads that Mediterraneans do so well. This one brought a trio of carrot, beet and olive/garbanzo-bean salads. The main course was a seafood dish reminiscent of bouillabaise, though with warmer spices. I particularly liked the Harissa-aoili that added extra flavor and richness to the already-heady fish broth.
The trio of desserts proved equally delightful, with a semolina cake, an almond-phyllo pastry and a rice pudding. Perhaps one of my favorite moments of the meal, however, was when Assaidi poured us the after-dinner mint tea, arcing the flow of the tea high from his silver teapot into the colorful gilded glasses. The beverage was as refreshing and stimulating as any digestive I've ever had, and the warmth of the gesture was unmistakable.
The meal cost an incredibly reasonable $30 per person and was held at Red China Bistro.