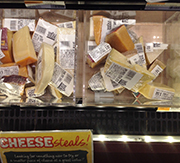 By Wini Moranville
Sure, we love heading to a great cheese counter and sampling our way through well-chosen tastes of this and that. But when the lineup is long and we simply don't have the time for a tasting, the little odds-and-ends bin at Whole Foods Market comes in extraordinarily handy.
Look for the sign that says, "Cheese Steals!" The small, pre-cut wedges and chunks of random cheeses sell for a few dollars each, making it easy to pick up a selection for a mini cheese tray that's perfect for a small, spontaneous gathering. I've also found some new favorites this way, including the amazing Campo de Montalban Cheese, made from all three milks (cow, sheep, and goat). It's a nutty, semi-firm cheese that's a little like Manchego, but with flavors reminiscent of lush pastures of grasses and herbs.
I was originally concerned that this bargain bin might be filled with past-their-prime cheeses; however, on the three occasions that I've grabbed a few, I've been pleased every time with their quality and freshness.
Whole Foods Market is at Water Tower Place, 4100 University Ave., West Des Moines; 343-2600.