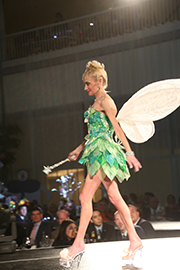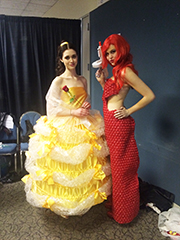 By Wini Moranville
The best charity fundraisers are a mixture of purpose, glamour and good fun. The ChildServe Bubble Ball 2015, held in the atrium of Capital Square, brought all three–with glamour to spare.
The space was transformed into a fantasy world of children's movies, thanks to story-high draperies of pirate ships and castles and an enormous Bubble Wrap sculpture of sea creatures from the hit Disney movie "Finding Nemo." Music by The Brazilian 2wins–with their mesmerizing blend of electric ukulele and violin-driven, classic-infused pop–energized the evening.
Yet the event was, of course, all about the signature runway show. The models strutted across the stage dressed in colorful costumes created from Bubble Wrap. The magical parade included of all kinds of storybook characters, from Tinker Bell to The Little Mermaid, with plenty of princesses, monsters and wizards to go around. More than 60 volunteers put on the show, including our own Belle Du Chene, dsm magazine's senior editor, who designed a sultry "Jessica Rabbit" from the movie, "Who Framed Roger Rabbit."
The near sellout event was expected to raise more than $150,000 for the 85-year-old nonprofit organization, which improves the health and well-being of children with special health care needs. To find out more about the charity, go to childserve.org.