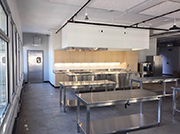 By Wini Moranville   
The most exciting thing to happen on the Des Moines culinary scene this year isn't a restaurant. It's a …
Well, in truth, I'm not sure exactly what we should call the Culinary Loft presented by Meredith Corp. and Cathy and Steve Lacy. Certainly, this new venue will host culinary classes; you can come here to learn everything from knife skills and mother sauces to healthy cooking and basic baking techniques.
Yet, to hear Zachary Mannheimer, executive director of the Des Moines Social Club, and Amanda Mae Phillips, the newly appointed culinary director of the loft, speak of this new space, it's much more than a cooking school.
I attended the preview of the loft last Friday, and while guests sipped and nibbled their way through the new space, admiring the gleaming new kitchen and the curved expanse of windows of the old fire station, Mannheimer and Phillips spoke of events to come.
Mannheimer noted that the classes are designed to put the "art" in the culinary arts. With offerings such as the Gastronome's Book Club, The Global Kitchen (featuring recipes from Iowa's newest residents, who hail from all over the world), and Dinner and a Movie (complete with a discussion of cinematography and a film-inspired meal), the act of sharing, preparing and eating food becomes an event where insights into the human condition are shared–which is to say, the Culinary Loft is slated to become a spot where art happens.
Find out more by clicking here.