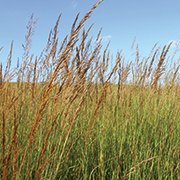 Learn about–and celebrate–the history, literature, landscape and people of the prairie at the third annual Iowa Humanities Festival April 10 and 11. The festival opens April 10 with a photography exhibit and a performance by storyteller Jeff Biggers and banjo player Gabrielle Kouri. The free event starts at 5 p.m. at the John and Mary Pappajohn Education Center (1200 Grand Ave.). Then at 7 p.m., opening-night activities continue with a reading by best-selling author Steve Berry at Central Campus (1800 Grand Ave.). The free reading is part of the Des Moines Public Library's AViD series.
On April 11, Iowa-based scholars, museum directors, librarians and collectors will discuss "The Elusive Prairie" at a series of panels starting at 9 a.m. at the Des Moines Art Center. At noon, the festival will move to Salisbury House & Gardens for a variety of afternoon sessions and, at 4:15 p.m., the closing reception.
The fee to attend Saturday's events is $10. Register in advance here or in person at the reception Friday or at the Des Moines Art Center at 9 a.m. Saturday. Click here for more information.