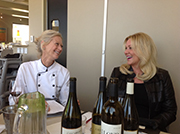 By Wini Moranville
Tickets for those lavish, multi-coursed Winefest Prima Dinners go on sale tomorrow, April 15; expect sales to be swift. According to Natasha Sayles, Winefest's executive director, almost half of the tickets have been pre-sold to Winefest patrons (advance booking is one of the benefits of patronage).
Lisa LaValle, chef at Trellis Restaurant at the Greater Des Moines Botanical Garden, is among the six chefs presenting Prima Dinners. LaValle says she plans to hold the dinner outdoors on the garden's boardwalk, weather permitting.
I recently sat in on a tasting of the dinner's wines, which will be presented by Calcareous Vineyards. The gathering offered a chance for LaValle and winery owner Dana Brown to think about the food and wine pairings for the dinner.
No decisions were made (Lisa collected the half-full bottles for further inspiration), but the wines–including the reds that were rich with full-throttle Paso Robles fruit and elegant structure–will no doubt inspire some irresistible dishes.
Also present was the dinner's sponsor, Rita Perea, owner of Rita Perea Leadership Consulting, who, along with LaValle and Brown, completes the triumvirate of "girl power" for the dinner.
"When the sponsorship opportunity presented itself, I felt like the stars were aligned," Perea said. "I am a successful female business owner and feel strongly about supporting other female-owned businesses, and other females in general."
It helps that she greatly admires LaValle's work as a chef and has enjoyed the Calcareous label for years.
The choice of venue also couldn't be more apt. Perea is also a master gardener who serves on the Botanical Garden Friends Board/ Leadership Council; she is also the founder of The International Contemplative Garden Association.
The Prima Dinners will be held on June 4; tickets cost $250 per person. Find out more on the Winefest Website.