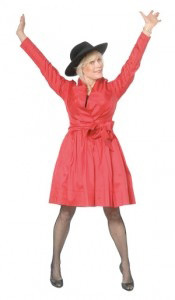 Entertainer extraordinaire Wicker Van Orsdel will present a show of music and comedy, as well as a few surprises, during "Spotlight Mz. Wick on 42nd Street" May 9 at the Des Moines Community Playhouse.
The evening, which benefits the Playhouse and honors Van Orsdel for her contributions to the community, kicks off with a reception at 6:30 p.m., followed by the 8 p.m. show. The lineup not  only will feature the talents of Van Orsdel and other notable community members but also showcase the various non-profits she has supported over the past 20 years.
Tickets for the event cost $125 and include two drink tickets and hors d'oeuvres. Purchase them at dmplayhouse.com or call 974-5370.