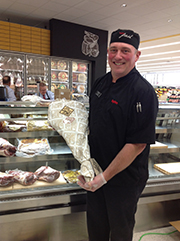 By Wini Moranville
Up-to-date restaurants and high-end gourmet shops around town have been showcasing charcuterie for the past few years. Now, with the opening of a bona fide charcuterie department at the Mills Civic Parkway Hy-Vee (555 S. 51st  St., West Des Moines), a wide selection of freshly sliced artisanal cured meats can be snagged alongside your everyday groceries. The department–the first in the Hy-Vee chain–officially opened at noon last Friday.
According to charcuterie specialist Steve Vasquez, the department will carry more than 20 cured meats; around two-thirds of them will hail from La Quercia in Norwalk. Selections include prosciutto, speck, pancetta, specialty salamis, coppa, lomo and more. While the counter currently offers Trois Petit Cochon pâtés made in Pennsylvania, Vasquez says he's working to roll out a signature homemade pâté in the near future.
Also look for convenience. Sure, you can get the meats sliced to order; however, if you're in a hurry, you've got options. Each day, the department will stock ready-made charcuterie boards, each featuring a selection of prosciutto, hard salami, cheese, dried fruits and olives. "They'll be perfectly sized for two people," Vasquez says. That means you can grab a bottle of wine in a nearby aisle and be good to go for a picnic–making the timing of the new department perfect for spring and summer.