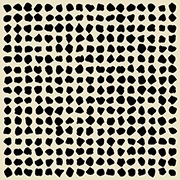 By Belle Du Chene 
We labor to find just the right art piece to hang above our mantle or to complete a gallery wall installation, but what about purchasing fine art for our toddler or small child's nursery or playroom?
Sarah Ekstrand of Olson-Larsen Galleries is a fan of the idea that seems to be trending everywhere. "We love placing original artwork in surprising places," she says. "Not only does it immediately up the sophistication factor, it's something the kids can grow up with (and) take to college and someday their homes."
Unleashing kids' imaginations through high-end art helps them to be creative thinkers. Below are two of Ekstrand's picks for artwork ideas for nurseries and kids' rooms that have been done by Olson-Larsen Galleries' roster of talented artists. For more ideas, 
contact Ekstrand
or browse the gallery's
website
.