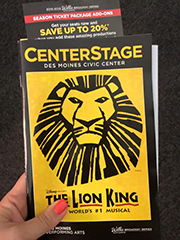 Have you ever wondered what goes on backstage at a production the size of Disney's "
The Lion King"
?
 
How heavy are those costumes? How do Scar, Mufasa, Puma and all the other characters move their heads like that? Do the dancers in the giraffe stilts ever fall over? How do they get the body paint stains out of the clothes?
 
Find the answers to these questions and more as dsm takes you with us on our all-inclusive backstage tour of the award-winning musical, which plays the Des Moines Civic Center through May 17.
Click
here
and get ready to roar–you won't want to miss seeing these costumes up close in our slideshow.