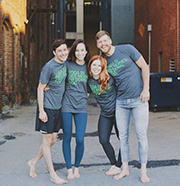 By Belle Du Chene
There's a new band of yogis setting out out to make yoga more accessible to the community. Emily Boyd and Julia Hogren created Pop Up Yoga to offer yoga classes that will pop up almost anywhere in Des Moines, such as in parks and galleries, on rooftops and even in front of warehouses.
The classes welcome all levels of students, whether you're a first-timer or a seasoned practitioner. They are free to attend, but some special events will be donation-based to support a local cause or charity.
"Pop Up Yoga began as an idea to bring more free yoga to people who are intimidated to step into a studio space or find the cost of classes to be prohibitive," Hogren says. "Our hope is that someone new each week or month will try a class, meet a new friend, and feel stronger and more relaxed and then consider exploring a regular practice at a local studio."
So far the community has embraced the idea. The beloved T-shirt empire Raygun has partnered with the initiative to sell "Yoga in Des Moines: I'm Down, Dog" shirts in-store and online.
Classes have already started. For more information and to see the schedule, check out popupyogadsm.com, like the group on Facebook and follow them on Instagram @popupyogadsm.