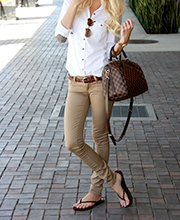 By Belle Du Chene 
Now that summer is in the air, the temps and hemlines are getting higher. It's time to dress for the warmer weather, but there are a few faux pas to avoid this season while keeping cool–and more important, looking it.
Pet peeve No. 1: Rubber flip-flops.
I can hear it now: the sound of the loosely fit rubber flip-flop smacking the heel of otherwise well-dressed wearers everywhere. Unless you're leaving the nail salon with a fresh pedicure, are at the beach or can't afford more than $2 for a pair of shoes, the unavoidably sloppy choice in footwear should be left poolside or on the shelves of the local Old Navy store. Other, more stylish options are everywhere, including decorative sandals, gladiators, espadrilles with cute ties or a wedge heel, and all-leather woven huaraches. (And be sure to pick up the next issue of dsm later this month to see how you can pair athletic shoes with dresses.)
Pet peeve No. 2: Plastic sacks as a substitute for a tote bag.
California became the first state to ban single-use plastic bags by retailers last September. They're bad for the environment. And they make a lot of noise. On top of that, why would you want to carry your items in what looks like a traveling trash bag you just pulled out of the Dumpster? I vote that if you have to use plastic sacks, leave them as liners for the trash bin in your bathroom or for walks with your dog. Instead, invest in a nice jute or leather tote bag or opt for an inexpensive canvas one offered by many local retailers–often in support of a cause–that are made from recycled materials and are easily thrown into the wash.
Pet peeve No. 3: Forgetting to clip the labels off of sheer and light-colored garments.
I think it's great that your new silk blouse was made by a hot designer this season. But if you clipped off the price tag, why wouldn't you also clip the label at the back of the neck or the care label down the side seam? While clipping that coveted Prada name from your new splurge may cause you to pause, you'll be happier to wear it without the distraction. If you have a steady hand but don't trust scissors, a seam ripper can be used by positioning it gently under the stitching and pushing up to relieve the stitch without pulling on the fabric or making a hole.