By Wini Moranville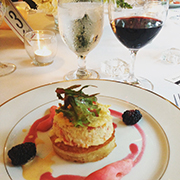 Who pairs lobster with a big, bold Napa Valley cabernet? I had the great luck to be a guest last Thursday night at the Splash Seafood Bar & Grill/Caymus Vineyards Prima Dinner, where chef Dominic Iannarelli did just that.
Iannarelli's challenge was to showcase seafood–Splash's main raison d'être–with the esteemed Napa Valley cabernets and zinfandels by Caymus Vineyards.
To some, delicate seafood with big, bold reds might sound ill-advised, but Iannarelli pulled it off with aplomb. It helped that he chose seafood and preparations that possessed their own kind of power and finesse.
Served alongside his first course of rich lobster crème brûlée was the vineyard's 2005 Napa Valley cab; after a decade, the tannins had mellowed into near absence, which served the pairing beautifully. The second course brought a Hawaiian bigeye tuna with an octopus and potato salad. The robust, steak-like fish handily matched Caymus' 2013 Napa Valley zinfandel.
Splash also knows its way around steaks: Course three brought a prime New York strip with shellfish mushrooms and short rib marmalade–a shoo-in for Caymus' 2009 Napa Valley cabernet sauvignon.
Part of the thrill of the Prima Dinners, which are held each June in conjunction with Winefest Des Moines, is the chance to peek inside some of Des Moines' most distinctive homes. The Splash/Caymus dinner was held in the art-centric home of Charlie and Karin Edwards. See photos of Karin, owner of Karin H. Edwards Interiors, and her house in this July 2014 article in dsm magazine.