By Wini Moranville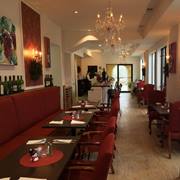 Austrian-born chef Michael Leo of Strudl Haus is pairing six courses with wines from Indianola's Summerset Winery on June 18. Many courses feature Iowa-sourced products.
But really. What does a chef from Europe–where winemaking stretches back millennia–think of Iowa's relatively new wine industry? "We all know that Iowa wines are not French wines," Leo says. "Some are better than others."
He adds, however, that he finds some affinities between Summerset wines and those from his native Austria. The vidal blanc, he says, is somewhat similar to a pinot blanc from his homeland. Summerset's marechal foch resembles zweigelt, the number-one-consumed red wine in Austria.
Leo also says that he thinks it's time for Iowa chefs to support Iowa wineries the way they support Iowa farmers. It's a great mission for an exceedingly good price: While many wine dinners can climb into three figures, this event costs $55 (not including tax and tip) per person, including wine with each course. The evening will kick off with Summerset Festiva sparkling wine. Elk bratwurst begins the rising arc of the meal, followed by corn chowder and then a salad of Cleverley Farms greens and goat cheese.
For the climax, Hickory Farms pork loin with new potatoes and vegetables will be showcased with the Summerset vidal blanc (I love the way Europeans serve white wines with pork). The denouement of the meal will bring rhubarb strawberry crepes and a cheese course of Pella Gouda cheese.
Strudl Haus is at 1951 Indianola Ave. The event begins at 6:30 p.m. Reservations are required; call (515) 259-9886 to reserve. And be sure to check out the review of Strudl Haus in the July/August issue of dsm, which will be published June 23.