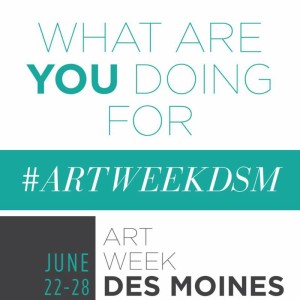 In April we broke the news of Art Week Des Moines, the new multiday festival June 22-28 celebrating local artists. Since then, we've heard from co-creators David Safris and Liz Adelman that the event, which leads up to the annual Des Moines Arts Festival, is shaping up nicely. The schedule of activities is growing by the day, with public art tours, special restaurant dinners, lectures, gallery shows and more.
Adelman is excited about the variety of festivities being offered. "Where else can you see works of art by iconic urban street artists or watch a mural being painted during happy hour?" she says. "Whether you're interested in well-known artists or those on the way up, Art Week will have something for everyone."
Events are planned for each night during Art Week Des Moines. Visit artweekdesmoines.com and click on the events tab to see the schedule.