By Wini Moranville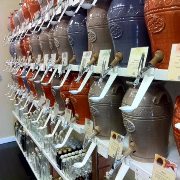 Anyone who has ever appreciated a glass of lemonade, a Campari and soda or a citrusy sauvignon blanc on a hot summer day understands just how refreshing those sour and bitter flavors can be as the temperature climbs.
That's why in summer, I always lay in a supply of vinegars from Vom Fass, the vinegar, olive oil, wine and spirits emporium in the Shops at Roosevelt (833 42nd St.; 244-5020).
A few ideas:
Waldburg Balsam Blueberry: Add a couple of teaspoons to lemonade to make a fruity and refreshing blueberry lemonade. Or, simply add a few drizzles to club soda and serve with a lemon slice.
Calamansi Balsam Vinegar: Add a dash of this exotic citrus-fruit vinegar to your gin and tonic instead of the usual lemon or lime slice.
Maletti Aceto Balsamico di Modena: Make a quick sundae of fresh berries, vanilla ice cream and a drizzle of this top-shelf balsamic vinegar for a creamy, sweet-tart dessert.
In the coming weeks, Vom Fass will offer some tasting and learning opportunities, including an Italian Ice Cream Social (July 3), a Spanish Wine Tasting (July 11) and a Brunch and Bubbles Tasting (July 18). Find out more on the Vom Fass Des Moines website.
P.S.: Find more ways to use specialty oils and vinegars in the article "Lovin' Spoonfuls" in dsm magazine.