By Wini Moranville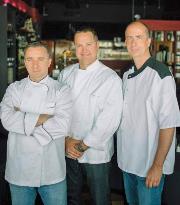 In these days of cook-offs, food feuds and chef smack-downs, it's always nice to see restaurateurs come together to collaborate rather than compete. That's the way Bistro Montage chef/owner Enosh Kelley and two other local chefs felt as they designed next month's Passport to Fine Dining program.
Kelley has teamed with David Baruthio, chef/owner of Baru 66, and Michael Leo, chef/owner of Strudl Haus (an Austrian café) for an enticing way to nudge food lovers to dine out during what is generally a slow season for restaurants. During July, when you dine at all three restaurants and order the four-course $40 "Passport" menu at each, you'll receive a stamp on your "passport" (a clever card you receive at the first place you dine).
After you've collected stamps from all three locations, you'll be entered to win a drawing. The prize: A dinner for six prepared by the three chefs at a location to be determined. Second prize includes a $40 gift certificate from each restaurant, while third prize is a bottle of wine from each restaurant.
For more information, visit the event's Facebook page, Passport to Fine Dining.
(Also be sure to check out the review of Sturdl Haus in the new issue of dsm by clicking here.)