By Wini Moranville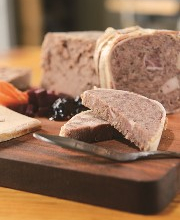 Bastille Day, the French national holiday that commemorates the birth of modern-day France, is July 14. Remember: You don't have to be French to celebrate Bastille Day any more than you have to be Irish to celebrate St. Patrick's Day.
Fortunately, local food purveyors make it easy to get a little French joie-de-vivre on your table and in your glass. A few of my favorite French finds around town:
Crème de Cassis de Bourgogne: Raise a glass with a kir, that French national aperitif that combines a couple of teaspoons of crème de cassis (black-currant liqueur) with about 4 ounces of dry white wine (sauvignon blanc works great). Find the terrific Trenel et Fils brand at Ingersoll Wine and Spirits (3500 Ingersoll Ave.; 255-3191).
French-Style Pâtés: Head to the Cheese Shop of Des Moines (833 42nd St.; 528-8181) and get a generous hunk of their true-to-France house pâté, which I praised in this dsm magazine article on The Five Best Dishes of 2014. Also pick up a selection of well-purveyed French cheeses (I especially adore Ossau-Iraty, a sheep's-milk cheese from the Pyrenées).
Best Case Wines: Next time you're in the market for French wines, look closely at the back label. If the importer is Best Case Wines, chances are you've got a winner. Robert Morey, who lives in Iowa City, travels throughout France and finds the best wines for the price. This season, his refreshing white wines from the Loire Valley will especially hit the spot. Find Best Case Wines at Hy-Vee stores in Pleasant Hill, Waukee and Ankeny.