By Wini Moranville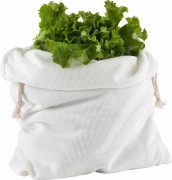 As you may have noticed, those wonderful salad greens you buy fresh from the farmers market usually do not come washed and ready to use. But what they lack in convenience, they make up for in intensely fresh flavor you'll simply never experience from trucked-in bag lettuce.
Still, I do find it a slight hassle (in a First-World way) to wash and spin dry handfuls of greens as I need them. Yet washing them all at one and trying to keep them on hand doesn't always work, either–they can deteriorate quickly if stored in regular plastic bags.
The solution: this Lettuce Saver Bag from Trudeau (suggested retail price: $14.99). Made of absorbent microfiber, the bag is designed to draw excess moisture away from washed and dried salad greens, yet also allows air into the bag. According to the manufacturer, this helps decrease spoilage while prolonging freshness.
I gave the bag a go with some tender lettuces, and while I can't attest to a long life for the greens (I polished them off within two days), I did appreciate having the produce washed and ready to go when I wanted something fresh and green on my plate.
Find the Lettuce Saver Bag at Kitchen Collage (430 E. Locust St,; 270-8202).