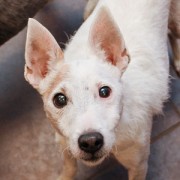 The Animal Rescue League of Iowa is over capacity and asking for help from the community to adopt or foster the record number of homeless animals–more than 1,300–that are currently in its care.
"While we have had a record number of adoptions and great success with reuniting lost pets with their owners this summer … we continue to receive dozens of animals every single day," says Tom Colvin, ARL's executive directer. "We are doing everything we can to keep up with that number of animals and (get) them into homes as fast as we can, but we really need the public's help."
If you are considering surrendering a pet, the ARL has set up programs and services to help you keep the pet, including free spay and neutering services, free cat and dog behavior counseling, and adoption assistance. To learn more about these programs, visit ARL-Iowa.org.
If you are unable to adopt a pet at this time, the ARL is also taking applications for the foster program for individuals who can take an animal into their home for a short time. Contact foster@arl-iowa.org or visit ARL-Iowa.org/foster to learn more.