By Wini Moranville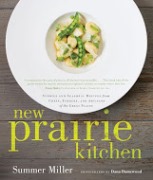 Lovers of all things fresh and local will want to head to Beaverdale Books this Sunday, Aug. 2, for a chance to meet Summer Miller, author of "New Prairie Kitchen: Stories and Seasonal Recipes from Chefs, Farmers, and Artisans of the Great Plains."
The timing couldn't be better. Many of the 50 recipes showcase produce that's at its best now (or will be marching into our markets soon). Miller also features Des Moines chefs and food providers. For example, she has snagged George Formaro's sweet-corn chowder with bacon and sweet-corn salsa, as well as Sean Wilson's beet salad with goat cheese cream and passion fruit marshmallow.
While I love the way the book gives recognition to local food heroes (it also features Larry Cleverley of Cleverley Farms, Jason Simon of Alba, and the Musser Family of Milton Creamery), I also see it as a culinary travel guide to Iowa, Nebraska and South Dakota. Take a look at the beautiful photographs, read the stories about the food professionals, salivate over the recipes, and you'll probably be planning a road trip soon.
Miller will sign copies of the book ($29.95) from 1 to 3 p.m. Beaverdale Books is at 2629 Beaver Ave.; 279-5400.