By Christine Riccelli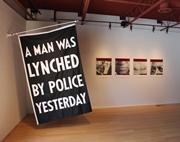 If you haven't had a chance to stop by Moberg Gallery's current exhibit, make sure to do so. Curated by Des Moines artist Jordan Weber, "Make Their Gold Teeth Ache" is an intriguing and provocative look at racial inequality and power struggles. Weber's goal is to illuminate African-Americans' "double-consciousness"–specifically, how people of color view themselves through white perspectives while attempting to maintain their identity.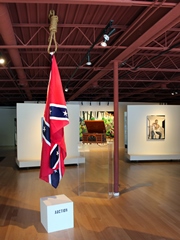 We found several works by artists John Sims and Dread Scott especially striking because of both their simplicity and their power. "The Proper Way to Hang a Confederate Flag" (pictured, right) by acclaimed Florida-based Sims consists of a Confederate flag hung on a noose with an auction block underneath. Another work, a banner with the words "A Man Was Lynched by Police Yesterday" (top photo),  is, Scott explains, "an unfortunately necessary 21st-century update on an NAACP banner from the early part of the 20th century," when a similar flag had the same words except for "by police." Often referred to as as the "godfather of the artist-as-activist" movement, New York-based Scott has exhibited and performed across the country as well as internationally.
Other participating artists are Mitchell Squire from Ames; Rico Gatson, Brooklyn; Eliza Murie, Chicago; and Loren Holland, Elfin Finley and Koshin Finley, all from Los Angeles. The exhibit runs through Aug. 22.