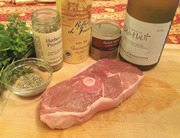 Really. Sometimes all you have to do is ask.
When I was staying in a vacation rental apartment in France recently, cooking up my all-time favorite cut of lamb–tranche de gigot d'agneau (lamb leg steak)–I lamented that I have never found this cut back home in Des Moines.
Less expensive and much more meaty than a lamb chop, and infinitely more tender than a lamb arm steak, the lamb leg steak is a tender, everyday-priced quick-cooking option for lamb lovers.
Trouble is, I've never seen it in Des Moines.
Until, that is, the other day when I went to Whole Foods. Chatting about lamb at the meat counter, I asked the meat pro if they ever had lamb leg steaks.
"I can cut them for you," he said, and he gladly sliced two steaks from a leg. I was thrilled, especially when I found their flavor every bit as good as anything I had bought in France.
Here's how I cooked them. Note that they're also a good grilling cut.
Lamb Leg Steaks with Herbes de Provence
Don't confuse lamb leg steaks with lamb shoulder or arm steaks–the latter are too tough for the quick-cooking method here.
Serves 2
1    10-ounce lamb leg steak, about 3/4-inch thick
2     teaspoons olive oil or sunflower oil
1     tablespoon snipped fresh parsley
1     shallot, minced
1/2  teaspoon dried herbes de Provence
1/2  cup dry white wine
1     tablespoon butter
Sprinkle the steaks with salt and pepper to taste. Cook the steak in hot oil over medium to medium-high heat until desired doneness (about 7 minutes for medium), turning once halfway through cooking time. Remove from pan; sprinkle with parsley, and cover with foil.
Add the shallot and herbes de Provence to the pan and cook a few seconds; add the white wine and boil until reduced by half. Swirl in the butter and continue cooking until the sauce reaches desired consistency.
Divide the chop in half and place each half on a serving plate. Pour sauce over the chops and serve.
Whole Foods is at 4100 University Ave., West Des Moines; 343-2600.