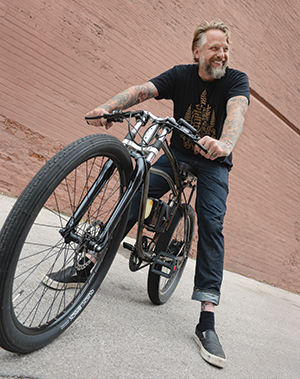 Written by Gunnar Olson
Photos by Duane Tinkey
Inside the East Village's Ichi Bike, founder and owner Dan Koenig—wearing a T-shirt, jeans and sneakers and with full-sleeve tattoos on both arms—busies himself near a display of banana seats. The shop's variety of bicycles is striking, from high-wheel bone-shakers to kids' balance bikes, well-loved String-Rays to custom fat-tire bobbers.
When a young man in a bright polo walks in, Koenig stops what he's doing, asks questions and listens, his eyes bright and voice soft as he figures out what the customer needs. Just as the business transaction seems about over, Koenig redirects the conversation. He is unabashedly excited to share his latest artistic obsession and cultural crusade: the electric bicycle.
"What are you doing right now?" he asks a visitor. "Want to go for a ride?"
An electric bike, or e-bike for short, is a bicycle with pedals aided by a small battery-driven motor. Although you may be able to conceptualize its mechanics, you have to ride one to understand the appeal. You start pedaling like you would on any other bicycle, and then, smoothly and silently, a magic hand seemingly starts pulling the pedals as you push. Your first, irrepressible reaction is to smile. You get up to speed quickly, 20 miles an hour. You check your pulse, registering now at the level of a brisk walk, except you're moving faster than you feel you should be for the effort. Then you imagine the confounded looks of passers-by, who see you pedaling like a tortoise and covering ground like a hare. By now you can't help it—you laugh out loud from sheer joy.
One by one, Koenig has been winning converts to the e-bike, and over the past few years he has begun to introduce a new culture of bicycling in Greater Des Moines, a bike-commuting lifestyle that is practical for business professionals and child-toting parents alike. Koenig seems an unlikely candidate to lead this crusade in a city with nearly nonexistent traffic congestion and abundant cheap parking. However, he regularly persuades car owners to part with $4,000 for an e-bike.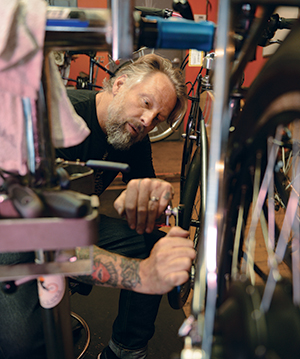 Works of Art
Friends, customers and e-bike manufacturers view Koenig as an aficionado on the vanguard of an evolving market with the potential to change how people move about in their everyday lives. And as importantly, he's doing it with style. Custom e-bikes by Ichi are more than utility vehicles for urbanites—they are works of art.
Koenig, 48, grew up in Des Moines and graduated from Roosevelt High School. Life took him many places, twice to California, once to Hawaii and twice to Europe. He was into bikes and skateboards and punk rock music, finding work as a bike messenger and starting a career as a tattoo artist at San Francisco's Tattoo City alongside legendary tattoo artist Don Ed Hardy. He returned to Des Moines in 1995 to open Yankee Doodle Dandy Tattoo in the Drake neighborhood.
Koenig remembers his first new bike, a birthday present when he was in fourth or fifth grade, a lemon-colored Schwinn Breeze that was, notably for him, not a String-Ray. "I wasn't down with it," he says. "So I made my parents take it back. I remember in the back of the car saying 'I'm sorry' to the bike that I couldn't be its owner. I felt like I was betraying it, like the bicycle had a soul."
Today, Koenig goes out of his way to match the right bike to the right customer. And he shakes his head whenever someone tries to confine the bicycle to only one use, such as riding solely for sport and recreation. He's all for road bikes and trails and clipping in and going for a hard ride, but there are other worlds of bicycling better suited for other people.
So when Koenig was first introduced to an electric bicycle a few years ago, he didn't see it as "cheating," as some people do. Rather, he was open to see its potential in redefining how people move around cities. Today Koenig offers a range of e-bikes, from off-the-rack models by the industry's big names, such as Yuba, Pedego and IZIP, to highly customized rides that he's equipped with electric-assist kits. He's built custom e-bikes to look like cafe racers and even one bike with a sidecar.
Game Changers
But the specialty that has earned Koenig a reputation among industry insiders is a mashup between an electric cargo bike and another niche of the e-bike market, the super fat tire mountain bikes that, equipped with electric assist, are monster off-road machines. The fat tires that make it possible to climb steep hills through terrain have a different effect on a road bike: They smooth out the ride over rough, aggressive pavement, which becomes especially important when traveling 20 miles per hour.
The fat-tire electric cargo bikes are game changers for people with places to go and things to haul and who take pleasure in getting out of their cars and onto their bikes. But they don't want to make an athletic event out of every trip. "For a lot of us, that's the gig," Koenig says.
Yuba, the No. 1 U.S. manufacturer of cargo bikes where Koenig is on a first-name basis with the staff, sees the electric cargo bike evolving in a couple of different directions, notably by affluent families who are using the bikes in lieu of their cars for a majority of their trips. "Dan is certainly the premier aficionado in that respect," says Yuba operations manager Marc Azevedo.
Koenig's bikes are attracting a following in Des Moines. There's a cluster of eight friends in the Waterbury neighborhood who all have electric cargo bikes, among them Maria Loder, a 43-year-old mother of two. Even in a dress, she rides her electric cargo bike to take her 9-year-old daughter to Hubbell Elementary and pick up her 5-year-old son from the Science Center of Iowa. She uses it to commute to Drake University and to haul veggies and milk home from the Windsor Heights Hy-Vee. If the weather is fair, her Honda Pilot stays in the garage.
"I cannot tell you enough how much this bike has changed my life in the summer," she says.
Neighbor Joe Riley, 36, recently bought one of Koenig's bikes to begin commuting to Pleasant Hill, where he works as executive vice president of Riley Resource Group.
"I don't geek out on it," Riley says of cycling. "I don't do RAGBRAI; my wife doesn't either. But we just like to ride bikes and get around in our community not in our car. The Des Moines community is so spread out, it doesn't make sense to walk everywhere, but the e-bike makes it possible" to get from place to place without a car.
The look, style and attitude that are Koenig's signature make his custom e-bikes so much more interesting than some standard models. "He should be selling those for $10,000," Riley says. "It's a piece of art, not just a tool or a bike."
The industry watchers at Yuba who track Koenig's work agree. Yuba's director of outreach, Steve Bode, says: "If you have one of Dan's e-bikes … you've got the mack daddy."
---
E-bikes Grow in Popularity
Sales of electric bicycles are growing in the United States, although they represent less than 1 percent of sales worldwide, according to Electric Bike Worldwide Reports.
Approximately 80,000 to 100,000 e-bikes were sold in the United States each year from 2010 to 2012, then jumped to an estimated 174,000 in 2013 and 198,000 in 2014, the report shows. The majority of e-bikes are purchased by the Chinese, who bought 35 million of the 37 million e-bikes sold worldwide in 2014.
Report author Frank Jamerson, a nuclear physicist who's tracked the industry for 20 years, says e-bikes are mainstream in China and gaining traction in European cities where four-wheel vehicles are banned from city centers. He attributes the recent jump in U.S. sales to the improving quality of the products and an increasing willingness of buyers to pay $3,000 to $4,000 to get that quality. "People have finally figured out that you get better bikes by paying more money," he says.
Once representing only 10 percent of sales, electric cargo bikes are now 50 percent of business at Yuba, the No. 1 U.S. manufacturer of cargo bikes, according to Yuba director of outreach Steve Bode. He says their primary buyers used to be people without other options, but the demand is now coming from people with higher incomes: people who own cars and want to ride bikes but live on hills, have kids, and regularly haul their kids, along with groceries and other errands.
"We can't make them fast enough," Bode says.
---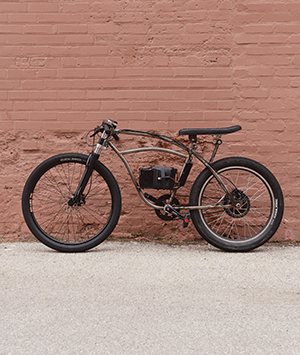 E-bike FAQs
Answers (abridged) by Dan Koenig, Ichi Bike
How much does an e-bike cost?
$2,000 to $6,000. That's what you need to spend on the low end to get reliable quality. You can spend less, but the components are cheap and you'll end up getting nickeled and dimed taking care of it. On the high end, $6,000 will get you a customized electric cargo bike with fat tires.
How fast does an e-bike go?
The legal limit is 20 miles per hour.
How long does the battery take to charge?
Four to six hours.
How long does a charge last?
Twenty to 50 miles, depending on the variety of the battery and how you ride the bike.
What's the life span of an e-bike battery?
The batteries are rated for 1,000 to 1,500 charges, which works out to three to four years of being charged every single day.
Do the e-bikes help charge the batteries when you pedal?
You wouldn't want that, even if it's possible. Do you want your pedaling to be impeded?