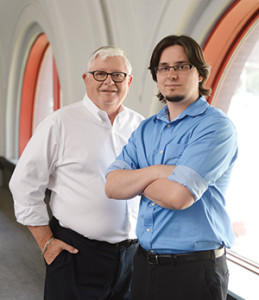 Written by Joe Gardyasz
Photo by Duane Tinkey
Clients' hugs are a big part of Jack Morlan's workday. And quite often, those hugs are accompanied by tears of joy.
For more than 30 years, the artisan known by many of his grateful clients as "the hair doctor" has seen many tears and savored thousands of hugs as he's fitted thousands of wigs.
At Studio 409 in West Des Moines, Jack and his son, Zac Morlan, specialize in a craft that few other salons in the state handle—the fine art of fitting and customizing wigs for cancer patients and others who are losing or have lost their hair.
"When they see how they're going to look … they just want to hug us," Jack says, seated in the salon chair in Studio 409's private consultation room. He also co-founded a nonprofit organization, Strands of Strength, which raises money to provide wigs at no cost to cancer patients who otherwise could not afford them.
Jack got into the specialty more than three decades ago after his sister, a nurse at the time, was diagnosed with cancer and convinced him of the need to create a resource for cancer patients who needed wigs. (She's still a survivor.)
He has built a reputation with oncology doctors and nurses throughout the state who refer patients to him, along with numerous salons that are glad to be able to refer a client to someone who handles the challenging specialty.
"I've become very good friends with all the doctors and nurses who deal with oncology, so it's just grown and grown," says Jack, who is now 70. "And I'm getting to a point where I need to start to pull back, so my son has come in and he's now learning to take over to do this as well."
Dr. Susan Beck, a Des Moines surgeon who practices at Katzmann Breast Center, has witnessed Morlan's compassion and the healing effect it has on her patients. She has been referring patients to him for about nine years. 
"It's such a difference for patients to be able to go to him, to have a very compassionate person listening to them," she says. "He has a passion for what he does, and you can see it in his actions."
Beck's most moving experience with Morlan's services came last year, when Beck's mother was dying of cancer. When her mother would no longer leave her assisted living unit to eat in the cafeteria because of her hair loss, Jack visited her on a Sunday with an array of wigs and worked his magic. "His heart is so big," Beck says.
The majority of clients who come to the salon are fitted with wigs because of hair loss from cancer, leukemia or lymphoma as well as other medical conditions such as alopecia or stress-related hair loss. The Morlans' clients are all ages—one of the youngest was just 7 when Jack fitted her wig. The salon also has a nonmedical side with employees who simply style hair.
With access to wigs from about 40 different suppliers, including natural hair wigs that are imported from Europe, the Morlans can offer clients options that range in price from a few hundred dollars to thousands of dollars, depending on their style and pocketbook.
"A lot of times it takes more than one visit," Zac says. "It depends on what stage they're in. We try to get most people in here before they've lost any of their hair. That way we can see what their style is like and we can try to match up as closely as possible to that."
Most of the time, people want to stay with a similar style and color as their natural hair, Zac says. "But sometimes you get someone who says, 'I've always wanted to be a redhead—let's go with being a redhead.' "
Zac also specializes in working with men who are experiencing hair loss and offers the "Head First" hair restoration program as well as fits them with hair "units."
In any given week, the Morlans might work with seven or eight hair-loss clients. Over the course of his career, Jack estimates he's probably touched the lives of more than 10,000 people he has fitted for wigs.
The idea for the nonprofit, Strands of Strength, came from an idea that Deb Pulver, a former cancer patient, brought to him. Last year the organization raised approximately $100,000, which funded more than 200 wigs that Jack and Zac fitted. Doctors at the cancer clinics refer patients to the program when they see there is a need.
"It's been enjoyable because I feel like I'm giving something back to the community with giving my talent to help those in need," Jack says. "And my whole concept here is taking care of the needs of people."
Like his father, Zac has a passion for helping people. After first working in the corporate world, where he was often told "you can't do that" when he tried to go out of his way to help people, he went back to school and got his cosmetology license. For the past two and a half years, he has been training under Jack. "It's been great," Zac says. "Just being able to see a person walk out with a smile on their face because they can feel like themselves—that just makes my day."
Some of the most memorable clients have been those who were undergoing cancer treatment during some of the most important times in their lives—like getting married.
"We've had different ones who had a wedding coming up and they didn't know what they were going to do," Jack recalls. "I assured them it would be fine, that we will make it work, no matter what. … We just work at it, and if we have to take more time, we take more time."
Jack has also crafted wigs for high school girls, and has gotten more than one young girl to the prom in style they never thought would be possible. In one case, the parents of a 17-year-old for whom Jack crafted a wig broke down and cried because they didn't know if it could be done for her.
Jack says he will probably never fully retire, but he's looking forward to scaling back his hours as Zac ramps up his expertise.
"The doctors have all asked about that, and they're excited that there's another generation of family that is trustworthy in taking care of the clients," Jack says. "That's important—the doctors want to make sure their patients are going to be taken care of right."