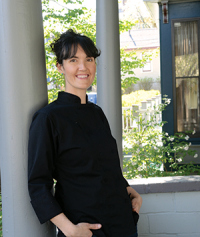 When I recently reviewed the Farm-to-Table Dinners held each Thursday night at the Wallace House in Sherman Hill, I was especially impressed with the way chef Katie Porter's visionary yet down-to-earth cooking provided a fitting tribute to the Wallace family's progressive legacy.
In fact, about the only thing I didn't love about the dinners was that they're always held on a Thursday night. Porter's thoughtful cuisine merits special-night-out status, which, for many of us, means a weekend evening.
Now there's a chance to enjoy Chef Porter's food in a Saturday night setting: On
Oct. 17
she will prepare a
Farm-to-Table Fundraising Dinner
. The five-course dinner, with seatings at 5:30 and 7:30 p.m., costs $70 per person; you can bring your own wine ($3 corkage fee) or purchase Iowa wines and beer–the venue just recently obtained its license to sell alcohol. Proceeds will go to support the programs at 
The Wallace Centers of Iowa.
The menu hasn't yet been designed; Porter says that the meats, sourced from local farms, will be chosen according to what goes best with the vegetables that will be at their peak. That's just what I'd expect from a chef who always puts her freshest best forward.
To sign up, call 243-7063 or click
here.
Incidentally, I have been asked to be on hand to greet guests at this dinner. See you there!