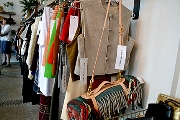 The much-anticipated grand opening of Preservation drew a crowd of about 100 eager shoppers to the East Village last Friday. Owned by Nicole Lorenson, the boutique offers vintage and modern merchandise. Guests enjoyed Southwestern cuisine as they browsed Preservation's clothing, accessories and lifestyle products.
Southwestern textiles, planted succulents and framed photography add an adventurous aura to the white walls and original tiled flooring in the space at 321 E. Walnut St. The carefully curated merchandise includes impeccable vintage garments as well as creations by new designers, such as locals Dallas Dawes and Fontanelle Supply Co. Lorenson's focus on sustainability and ethically produced goods is infused into every corner of the open, airy space.
Also tying in her professional photography background, Lorenson is offering complimentary mini photo sessions at Preservation for customers with purchases of more than $100. For more information, go to the store's website or Facebook page.