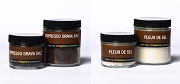 I recently popped into Allspice to up my autumn cooking game. I grabbed two longtime favorites and a new find:
Dark Chocolate Balsamic Vinegar ($10 for a 5-ounce bottle): I know–it sounds gimmicky. But I love adding about a tablespoon to the braising liquid for beef recipes (pot roast, stews, short ribs, etc.).
It doesn't necessarily add a pronounced chocolate flavor, but
simply more depth, intrigue, and a little bit of perkiness from the vinegar itself.
Fleur de Sel ($8.50 for a 2.5-ounce jar): This one's for roasting. Sprinkle this crème de la crème of salt sparingly atop chicken, pork roasts or beef tenderloin before you pop it in the oven. The flakes won't melt into the roast like most salt; rather, they remain perceptible on the finished dish, adding little flecks of "yum" here and there.
Espresso Brava Salt ($7.50 for a 2-ounce jar): I recently took frosted buttermilk brownies (aka Texas sheet cake) to a potluck gathering. Another cook clued me into how a light sprinkle of this specialty salt can really make those brownies take off.
Allspice Culinarium is at 400 E. Locust St.; 868-0808; allspiceonline.com.