By Larry Erickson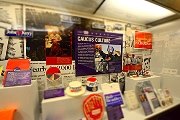 Ever wondered how the Iowa caucuses came to be our unique quadrennial social circus, performed for a national audience? You can relive the evolution of the caucuses in a timely exhibit opening this Friday, Oct. 2, at the State Historical Museum.
"First in the Nation: Shaping Presidential Politics Since 1972"
includes caucus images, articles and artifacts from around the state. You'll follow historical campaigns from tentative exploring to steamrolling toward the White House.
Opening day also will include two panel discussions.  Admission is free, although registration is encouraged for the panels. To register or to learn more about the exhibit, the speakers, a traveling display and related kids' programs, visit iowahistory.org/caucus.