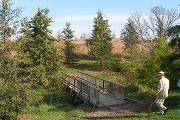 Not that we want to be Debbie Downers, but the beautiful fall weather will be over too soon, replaced with those endless, bleak winter days. So take advantage of what's left of autumn by exploring our favorite hidden gem: Brenton Arboretum near Dallas Center. And this weekend you can enjoy it with the arboretum's founder, Buz Brenton. (Buz, by the way, is also one of our favorite local gems: no-nonsense, determined, iconoclastic.)
Buz and Trees Forever founder Shannon Ramsey will lead a walk this Saturday, Oct. 3, at 10 a.m. If you're an early bird, go at 7 a.m. to participate in, yes, a bird walk. Over the years, some 184 bird species have been observed at the arboretum.
Each activity costs $5 for non-members; free for members. So become a member; in fact, become one even if you can't go Saturday. Click here to find out how and to learn more.