By Wini Moranville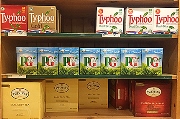 "So, you'll never guess who I saw at Dahl's. …."
Yes. I still say it. Even though Dahl's is no more, I just can't get used to saying "Price Chopper." Indeed, it's taking me some time to get used to the new chain, and I was especially bereft when they discontinued stocking my favorite tea in the world, PG Tips.
I first discovered this tea when I was living and working in England. Each day, the tea lady would push her cart through the office at teatime and offer everyone a "cuppa." I immediately noticed that the tea she served was more robust and revitalizing than any tea I'd ever had. She introduced me to her brand. Turns out, her PG Tips was and still is Great Britain's top-selling brand; it gets its name because it's made exclusively from the best part of the tea plant, the bud and top two leaves (the "tips").
Twenty-five years after leaving England, I still partake a daily cuppa in the late afternoon. And it has to be PG Tips. It's not just about the flavor: Just as different spirits can result in a different kind of buzz, PG Tips is the only tea that both calms me down and recharges me at the same time.
And so, I was scrambling for a replacement after the store formerly known as Dahl's stopped carrying it. Thank heavens, however, that I've found
PG Tips at World Market–and for a good price too: $7.99 for 80 bags. (World Market is at 4100 University Ave. in West Des Moines, Suite 210; 267-8666.)