By Wini Moranville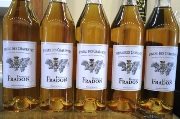 Poking around Vom Fass–the olive oil, vinegar and spirits emporium in the Shops at Roosevelt–I spotted a bottle of something I fell in love with in France but never thought I'd find here: Pineau des Charentes.
This wine-based apéritif is made mostly in the Charente and Charente-Maritime region, which is also home to cognac. In fact, most Pineau is made from the same wine grapes used in cognac, but while cognac is a distilled spirit, Pineau is a fortified wine; that is, it's made by adding a spirit (in this case, cognac) to grape juice early in the fermentation process, which stops fermentation and keeps the wine's sugars intact. The wine is then aged in oak barrels.
The resulting sip has the luscious density of port, yet brings bright, honeyed orchard-fruit flavors; think golden apples, pears and apricots.
Of course, because it's sweet, most Americans immediately assume it's a dessert wine, and there's no reason you can't enjoy it that way. But for the French, Pineau des Charentes is an aperitif, a pre-dinner drink meant to open up the appetite for the pleasures to come. Try it this way, and you may find, as I have, that sweetness in that pre-dinner drink readies the palate for dinner much better than a dry, citrusy glass of wine.
Look for Pineau des Charentes at Vom Fass (833 42nd St.; 244-5020) for $23.99 for a 750-milliliter bottle. Serve well chilled in small (3- to 4-ounce portions).