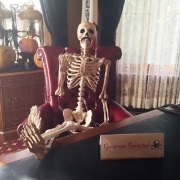 Terrace Hill will welcome all manner of ghosts, goblins and ghouls Oct. 31 for Scare Us Hill: A Pumpkin Ball. We had a sneak peek at the impressively decked-out Victorian mansion–decorated by a team of 40 volunteers from Wells Fargo & Co.–and quickly concluded there is no local venue better suited for hosting a Halloween bash. (Did you know one of Terrace Hill's second-floor bedrooms is rumored to be haunted year-round?)
At the ball, you can enter a costume contest, enjoy appetizers and desserts, and consult a psychic about what your future holds. The event also will include music, dancing and a live auction.
Tickets are $75 per person or $40 for those under age 40. Proceeds benefit restoration efforts and programs at Terrace Hill. Find out more on the Terrace Hill website.