By Wini Moranville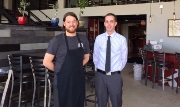 Lurra Cocina (Spanish for "earth kitchen") had its grand opening last Friday night, and it's set to become downtown's next hot spot, joining the corridor of other high-energy venues, Americana Restaurant & Lounge and Centro, just down the street.
With a vintage tile floor and reclaimed furnishings, the otherwise modern décor tips its hat to the historic nature of the building. When you go, check out the engaging use of a brick-red shipping container, employed most notably as the counter to the open kitchen.
Chef Nick Illingworth, formerly of The Cheese Shop, Table 128 and Blue Tomato Kitchen, oversees the menu of pintxos (bar snacks traditionally served on toothpicks or skewers), tapas, paella and a handful of entrees.
Because this is 2015, the bar menu spotlights craft cocktails. We stuck to the thoughtfully purveyed Spanish wines and an exemplary red Sangria, which was fruity and refreshing, with a kick. The couple next to us praised the specialty gin and tonics, made with homemade tonic and served in dashing stamped-metal vessels.
Highlights at the table included plump, fresh anchovies skewered with peppers, olives and pickles, as well as sausage-stuffed dates emboldened by a smoky tomato sauce.
And don't let the canned (versus fresh) tuna dissuade you from ordering the tuna salad-stuffed piquillo peppers. High-quality canned fish is currently on trend, and a taste of the moist, flavorful tuna in its luscious dressing will tell you why. As our astute waitress said, "This is where canned tuna started before it became awful."
Lurra Cocina is at 1420 Locust St.; 635-0952.