By Wini Moranville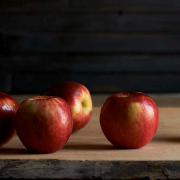 I like it when friends and neighbors tell me about something tasty they've found. I like it even better if they actually bring me a sample. That's what happened recently, when a friend not only raved about SweeTango apples, but handed me a couple as well.
This relatively recent breed of apple was developed by University of Minnesota researchers, who crossbred Honeycrisp and Zestar apples to make the new offspring. Currently, only registered growers in the United States and Canada are permitted to produce the apple.
It's a seriously good "eatin' apple": crisp and mostly sweet, but with a refreshing tartness in the mix and subtle hints of spice. I haven't tried baking with these beauties, but this apple is so tasty, you can enjoy it out of hand for a healthier-than-a-cookie snack, and still feel indulged.
Find SweeTango apples at the Clive Fareway (10151 University Ave; 515-223-0164) and at Trader Joe's (6305 Mills Civic Parkway, West Des Moines; 515-225-3820).