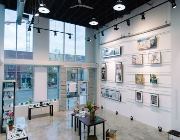 Des Moines has a new art gallery, thanks to Carly Zuendel, who opened Moxie last week in the East Village.
The gallery features a rotating lineup of artists; currently, you'll find the works of 11 artists from around the country, including Peter Tomka (photography), Dillon Baker (furniture) and theStudio8 (glass-blown jewelry).
Zuendel, an artist and a Des Moines native, says she wants to remove barriers for people new to the art-buying market as well as showcase emerging artistic talent. "I know firsthand how hard it can be to take the leap into the fine art and freelance worlds," she said in a statement. "That transition can be intimidating, and Moxie was created to make it easier."
Find Moxie at 505 E. Grand Ave., Suite 105. For more information, call 515-201-4111 or visit the gallery's website or Facebook page.