By Wini Moranville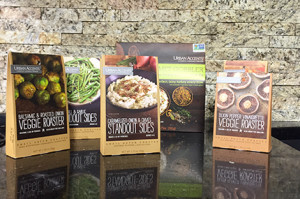 If you want to take a kitchen shortcut or two this Thanksgiving, consider the "Standout Sides," available at Accents and Interiors.
These culinary blends are designed as a way to flavor-charge your fresh-made sides–without a lot of work on the cook's part. Each package comes with the ingredients you need to expertly season three pounds of vegetables. Options include Balsamic & Roasted Onion Veggie Roaster, Dijon Pepper Vinaigrette Veggie Roaster, Herby Dill and Garlic (for green beans) and Caramelized Onion and Chive (for mashed potatoes).
"Yes, it's cooking from a box," says Amanda Duncan, a buyer for the Urbandale housewares and home decor store, "but no one will know you're cooking from a box."
I gave the Caramelized Onion & Chive mix a go and agree that the dish avoided the powdery taste that many "from the box" seasonings bring. I appreciated the bold flavors of the onion and garlic, though I did find the overall dish more salty and peppery than I'd like. That's easily remedied: Next time, I'll simply use less of the mix than the instructions call for.
The bottom line: If, on a 10-point scale, a take-all-morning scratch-made version of caramelized onion and chive potatoes would rate a 10, this shortcut take rates an 8.
And sometimes, the convenience factor trumps those few extra points.
Accents and Interiors is at 2701 86th St., Urbandale; 515-276-7201.
Wini Moranville is a freelance writer who covers the food and dining scene for dsm. Follow her at All Things Food – DSM Wini Moranville.