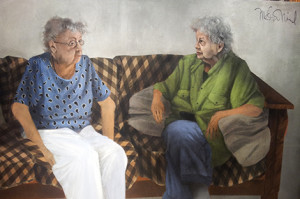 The local gallery scene just grew again: Artisan Gallery 218 will host a grand opening tomorrow, Nov. 18, 5-8 p.m., in historic Valley Junction.
Housed in a warm, inviting space with an exposed brick wall, the gallery at 218 Fifth St. in West Des Moines features the work of the four founding partners as well as a rotating roster of juried consignors. At a sneak preview last week, we were inspired by the passion and talent of the artist-partners: well-known painter Mary Kline-Misol, fine arts photographer Victoria L. Herring, jewelry artisan Louise Mcilhon and vintage furniture specialist Anne Temple.
With a desire to have a permanent home for their work, instead of constantly traveling to shows, Herring and Temple about a year ago started exploring establishing an artist cooperative. Kline-Misol and Mcilhon soon joined the effort. "We discovered that each of us had a vision and a craft that would make for an ideal situation at a gallery," Kline-Misol says.
Currently, the gallery is also showing and selling the works of sculptor Hilde DeBryne and fiber artist Julie McCullough. In addition, the owners are planning to offer workshops, classes and events at the gallery. "All of the artists at Artisan 218 strongly believe in sharing our knowledge with the community," says Kline-Misol.To find out more, go to the gallery's website or Facebook page.