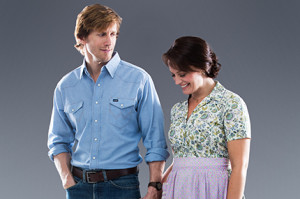 Everyone knows author Robert James Waller lived in Iowa when he set his tale of "The Bridges of Madison County" in and around Winterset. The Tony Award-winning musical production of his story launches a national tour Nov. 28 at the Des Moines Civic Center with fresh Iowa connections:
Elizabeth Stanley, who plays Francesca Johnson, lived in Cedar Rapids and Denison as a child. She has fond memories of Okoboji camping and following her dad and her brother when they rode RAGBRAI.
Composer Jason Robert Brown, whose score and orchestration for "Bridges" earned two 2014 Tonys, has family in Greater Des Moines. His brother David Brown is an executive at Wellmark Blue Cross and Blue Shield,and his wife's cousin Jenny McCoy is director of corporate communications at Meredith Corp.
Other fun facts about the show:
In show biz, a performer who can sing, dance and act is called a "triple threat." "The Bridges of Madison County" can be considered a triple threat, too. It has been a novel, a movie and a stage musical.
Waller's slim first-time novel sold 50 million copies; the movie version grossed $182 million.
The musical will run through Dec. 5 at the Civic Center (times vary). Tickets range from $35 to $101 (subject to change). For more information and tickets, go to the Des Moines Performing Arts website.