By Wini Moranville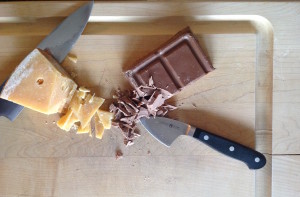 Each holiday season, we bring out cheeses paired with all kinds of things: honey and preserves, crudités, fruit, nuts … the list goes on. But for this year's entertaining, how about trying something a little more off the beaten path: cheese and chocolate.
Of course, it has to be the right cheese and the right chocolate–and leave it to Gateway Market pro Caleb Campbell, to lead me to the right combo. He had me taste Caro milk chocolate from Spain beside the four-year-aged Pitting Gouda from Holland.
What a revelation! The caramely notes of this hard cheese pair wonderfully with the chocolate. It's like getting a great chocolate-caramel dessert in a totally unexpected (and easy-on-the-cook) package.
What's that you say? You only like dark chocolate? Don't even go there; bitter flavors do not play nice with cheese.
Besides, maybe you need to get off your dark-chocolate high horse and give milk chocolate another look. There are some amazing ones out there. The trick is finding one with a high percentage of cocoa (which gives the chocolate its creaminess and intensity). Caro milk chocolate is 44 percent cocoa, while many candy bars contain around 23 percent.
"It also has true complexity," says Campbell, "with flavors of hazelnut, coffee and cinnamon, all from a chocolate."
Caro milk chocolate costs $13.99 a pound; Pitting Gouda costs $15.99 a pound. Gateway Market is at 2002 Woodland Ave.; 515-243-1754.
On Another Note:
Next week, I'll be presenting a class on French soups and stews at Vom Fass. Why not join us? Details are on my Facebook page.