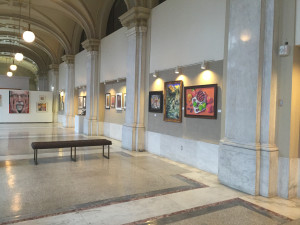 You have one more week to catch "Greater Des Moines Exhibited 22" at Polk County Heritage Gallery. When we stopped by, we were impressed by the variety of works by talented local artists whom we hadn't known about–until now.
Lance Kinseth's "Man With Red Scarf, Frontal Hands" immediately grabbed our attention; it's easy to understand why the acrylic work was awarded best in show. Among other works, we were intrigued by Kevin House's photomontage "The Hog Will Pay Our Debt." Other media represented include sculpture, oil, photography and drawings.
The free exhibit runs through Jan. 7. The gallery, one of the city's hidden gems, is located at Second Avenue and Walnut Street, in the Polk County Administration Building. Find out more on the gallery's website.