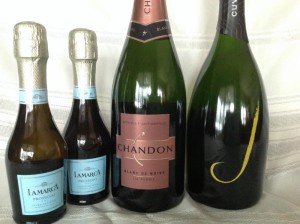 By Wini Moranville
After tasting through hundreds of sparkling wines over the past decade and a half as a food and wine writer, I've landed on my go-to, easy-to-find favorites in the moderately priced vein. Yes, we can spend a lot more, and yes, I could send you on a wild-goose chase for my favorite hard-to-find French crémant d'Alsace, but the great thing about sparkling wines these days is that you don't have to spend much or look too far afield for a bottle that's filled with finesse. Prices shown are from Ingersoll Wine and Spirits (3500 Ingersoll Ave.; 515-255-3191), but my picks are widely available at many well-stocked stores.
* J Cuvée 20 (Russian River Valley; $29.99): The delicate froth. The bright citrus notes. And those orchard fruits mingling with that telltale brioche-toast backdrop. Yes, the hallmarks of a nuanced sparkling wine are all here at a price that belies its elegance.
* Chandon Blanc de Noir (California; $20.99): Its lively sparkle will kick off the evening in style, but keep pouring it through dinner. The red-fruit flavors and rich creamy qualities will play nice with just about anything you bring to the table. Pink bubblies with steak? I've done it many a time and enjoyed it thoroughly.
* La Marca Prosecco (Italy; $14.99): Looking for a little more fruity approachability in your sparkling wine? This one brings bright citrus and orchard-fruit flavors, but with a clean, crisp finish. Find handy split-size bottles ($5.99) at World Market (4100 University Ave., West Des Moines; 515-267-9666). They're perfect if you need just a little sparkle at the stroke of midnight.
Wini Moranville is a freelance writer who covers the food and dining scene for dsm. Follow her at All Things Food – DSM Wini Moranville.