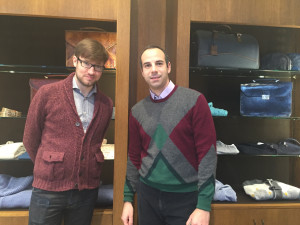 Greater Des Moines' style quotient just took a leap forward with the opening of Lord Midas of Des Moines, a luxury clothing and accessories store on the first floor of the Des Moines Building downtown (405 Sixth Ave.).
Sophisticated and exquisite handmade Italian goods star here; you'll find impeccably crafted men's blazers, suits, sweaters, ties, shoes and briefcases by such exclusive brands as Santoni, Isaia and Franceschetti. The store also sells women's shoes and handbags. Floor-to-ceiling windows, a small espresso bar, artwork and elegant merchandising displays enhance the ambience.
That the Lord Midas flagship retail store would land here is as intriguing as the merchandise. Why Des Moines?
"I get that question all of the time," says owner Massimiliano "Max" Stanco. The short story: Stanco, a native of Avellino, Italy, intended to open his flagship in Dallas (earlier, he had opened a showroom in New York City), but then a friend persuaded him to visit here. "Des Moines is a very special place with very special people," Stanco says he soon realized. "There's nothing like Lord Midas here … and I saw a lot of possibilities" to fill a luxury niche.
"We make sure we offer high-quality products not available anywhere else," adds Stanco, who recently moved to Des Moines. Joining him is store manager Michael Wergin-Droll, who previously worked at Badowers.
In addition to running Lord Midas, Stanco has his own line of beautiful handmade briefcases, leather shoes and smaller accessories, which are available at the boutique as well. View goods from Stanco's line on his website, and find out more about Lord Midas on its Facebook page. Stanco also operates an e-store: lordmidas.com.