By Wini Moranville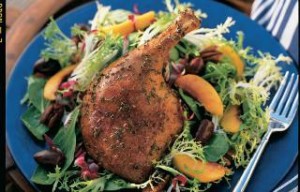 Until recently, if you wanted confit de canard (duck confit), you'd have to go to a French restaurant or make it yourself. But recently, the Price Chopper store at 35th Street and Ingersoll Avenue scored some major points with me when I spotted Maple Leaf Farms Duck Leg Confit in the meats freezer case. I took it home, tried it out and thought it was grand. While I'm sure our local chefs can make a better confit, the Maple Leaf version can't be beat for price and convenience.
Duck confit is a classic southwestern French dish. The recipe calls for salting the duck, then slowly cooking it in its own fat, resulting in meltingly tender, unctuously rich meat. Confit roughly means "preserved" in French, and traditionally, this cooking method was designed to give the meat a long shelf life, either by canning or storing in cool temperatures.
Comprising a leg-thigh portion, the Maple Leaf Farms duck is fully cooked and frozen. You need only thaw it in the refrigerator overnight, then cook according to package directions (25 to 30 minutes at 375°F). I like to run it under the broiler the final few minutes to brown-up the skin.
You can serve the duck as is, with a side of vegetables and rice or potatoes. It's also a great centerpiece to a main-dish salad, as pictured above. Or, you can shred it and use in other recipes, such as on a pizza or in sandwiches or pasta dishes.
Be sure to save the fat that surrounds the duck! A classic side dish with duck confit is potatoes that have been fried in that luscious fat (if there isn't quite enough in the package, boost it with some butter or olive oil).
Maple Leaf Farms Duck Leg Confit costs $11.99 for two leg-thigh portions, which easily serve two diners. Price Chopper is at 3425 Ingersoll Ave.; 255-3118.
Wini Moranville is a freelance writer who covers the food and dining scene for dsm. Follow her at All Things Food – DSM Wini Moranville.