What we're reading
Spotlight: Local Authors
Check out these newly published books by Greater Des Moines authors: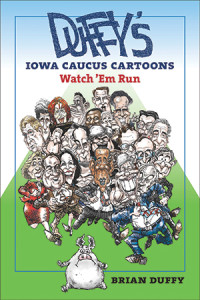 "Duffy's Iowa Caucus Cartoons: Watch 'Em Run" by Brian Duffy (University of Iowa Press, 2015). For nearly four decades, editorial cartoonist Duffy has chronicled the Iowa caucuses, skewering candidates from both sides of the aisle. This volume showcases some of Duffy's favorite cartoons and includes brief, insightful and often entertaining background on each. Duffy, who was the political cartoonist for The Des Moines Register for 25 years, now distributes his cartoons through King Features Syndicate, KCCI and Cityview.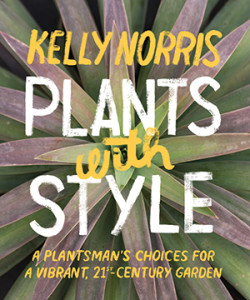 "Plants With Style: A Plantsman's Choices For a Vibrant, 21st-Century Garden" by Kelly Norris (Timber Press, 2015). Norris, the director of horticulture at the Greater Des Moines Botanical Garden, provides an engaging, lively and sometimes irreverent look at choosing artful plants for today's gardens. In the process, he explores how to "garden with purpose" and why gardening matters to our quality of life—both in our own space as well as in our relationship to the environment.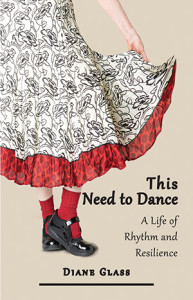 "This Need to Dance: A Life of Rhythm and Resilience" by Diane Glass (Zion Publishing, 2015). In this candid, moving and inspirational memoir, Glass recounts both the setbacks and the silver linings of living with spina bifida, a condition that has resulted in chronic pain, incontinence and other neurological problems. Glass, a former vice president at The Des Moines Register who's now a spiritual director, kept her condition secret for most of her life until a breast cancer diagnosis spurred her to speak out and devote her efforts to helping others. To read and excerpt, click here.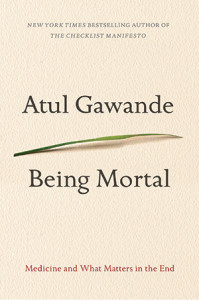 What Are You Reading?
Dory Briles, executive director of the Des Moines Public Library Foundation, is reading "Being Mortal: Medicine and What Matters in the End" by Atul Gawande (Metropolitan Books, 2014). "From his perspective as a surgeon, Dr. Gawande writes about changing the way we view the process of aging, dying and death from one of disease treatment and survival at all costs to one of well-being and acceptance of mortality," she says. "The book raises medical, legal, religious and philosophical questions and issues we all need to discuss as families and as a community."
What are you reading and what do you think about it? We'd love to know! Email us at dsmeditor@bpcdm.com. Your book and comments may appear in our next issue or in our weekly e-newsletter.
---
What's on our calendar for January and February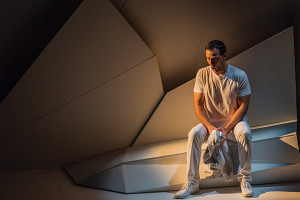 Experience …
… opera in a new and inventive way at Franz Shubert's "Winterreise," a one-man multimedia production Jan. 29-31 at the Des Moines Art Center. Staged by Des Moines Metro Opera (DMMO) as part of its 2nd Stages Series, "Winterreise" (Winter's Journey) stars baritone David Adam Moore (pictured) as a poet who treks through a dark, desolate winter landscape. The opera features 24 "art songs"—poetry set to music—performed in German; with each song, the video-projected set changes.
"One of the new territories in visual design for the stage is the use of video projections and animation," says Michael Egel, DMMO's general and artistic director. In "Winterreise," video helps "guide the audience through the emotional journey of the solo artist. The resulting production is riveting, stylish and an unexpected type of performance experience."
Showtimes are 7:30 p.m. Jan. 29 and 30, and 5:30 p.m. Jan. 31. Tickets are $25, available through desmoinesmetroopera.org.
---
January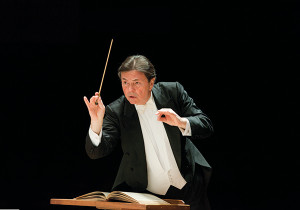 12
You'll want to stop the presses for the opening of "Newsies: The Musical," a Disney production inspired by the New York newsboy strike of 1899. Presented by Des Moines Performing Arts, the show has drawn raves for its energetic dancing and singing. Through Jan. 17 (times vary), Des Moines Civic Center. $20-$54; desmoinesperformingarts.org.
24
Revel in the gorgeous harmonies of Vocalosity, a 12-member a cappella group. You'll hear everything from 10th-century Gregorian chants to doo-wop to the Beatles and Bruno Mars. Presented by Des Moines Performing Arts. 7:30 p.m., Des Moines Civic Center.
$20-$54; desmoinesperformingarts.org.
29
A collaboration between Des Moines Metro Opera and the Des Moines Art Center, "Winterreise" is a one-man show featuring 24 songs and a video-projected set. See story, above. 7:30 p.m.; also Jan. 30 at 7:30 p.m. and Jan. 31 at 5:30 p.m., Des Moines Art Center. $25; desmoinesmetroopera.org.
30
Guest conductor Gerard Schwarz (pictured) directs the Des Moines Symphony playing Brahms' Symphony No. 4. Also on the bill: a suite from Rimsky-Korsakov's "The Snow Maiden" and Shostakovich's Cello Concerto No. 1. 7:30 p.m.; also Jan. 31 at
2:30 p.m., Des Moines Civic Center. $15-$60; dmsymphony.org.
---

February
3
With a style that slides between jazz and rhythm and blues, Grammy Award-winning vocalist Gregory Porter has been compared to artists such as Nat King Cole and Marvin Gaye. Presented by Civic Music Association. 7:30 p.m., Sheslow Auditorium at Drake University. $18-$60; civicmusic.org.
5
Based on the award-winning 1954 television movie, "12 Angry Men" takes you into a tense jury room as jurors struggle to reach a verdict on what was initially considered an open-and-shut case. Through Feb. 21 (times vary), Des Moines Community Playhouse. $25-$36; dmplayhouse.com.
6
It's always one of the most anticipated parties of the year: Bravo Greater Des Moines' annual gala will honor individuals who have made significant contributions to the local arts and culture scene. The soiree also includes live entertainment, dancing, food stations and more. 6 p.m., Hy-Vee Hall. $300; bravogreaterdesmoines.org.
11
Jessica Lange Dance (pictured) is an acclaimed New York-based troupe that draws on both ballet and modern dance. Presented by Des Moines Performing Arts. 7:30 p.m., Des Moines Civic Center. $15-$57; desmoinesperformingarts.org.
13
Explore the connection between the visual and literary arts at "Arts & Letters," a new exhibit opening at the Des Moines Art Center. The display will include works on paper, sculpture, paintings, photography and video, as well as rare book editions, such as the "Kelmscott Chaucer." Through May 1, the Des Moines Art Center. Free admission; desmoinesartcenter.org.