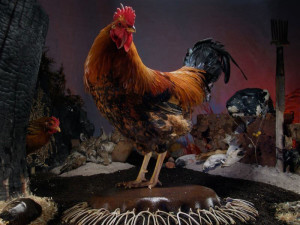 The Des Moines Arts Festival may be more than five months away, but it's top of mind for us. That's because last week, our editor was privileged to serve as one of the five jurors for the 2016 show, helping to choose the 165 artists–out of 952(!) applicants–who will be invited to exhibit.
We can't yet spill who made the cut, but you won't have to wait long to find out. The Arts Festival is hosting a new event, aptly called "Reveal," Jan. 20 to announce the participating artists. Billed as "an intimate dinner party on the floor of Wells Fargo Arena," the debut event will also give you a behind-the-scenes glimpse into the jury process, a chance to win a  painting by Chris Vance, exclusive offers for the 2016 festival and more.
Tickets are $125 per person, with special discounts for young professionals and artists. For more details and to buy tickets, go to squareup.com/market/dmafreveal. And don't forget to mark your calendar for the festival: June 24-26 in Western Gateway Park.
Matthew Hemminghaus won an award of excellence at last year's Des Moines Arts Festival, where his fetching photos of the roosters and hens he raises on his Missouri farm drew raves. He'll return to the 2016 festival, for which he also served as a juror last week, along with Ames artist Kathranne Knight, Colorado artist Lynda Ladwig, Visionary Services co-owner David Safris and dsm Editor Christine Riccelli.