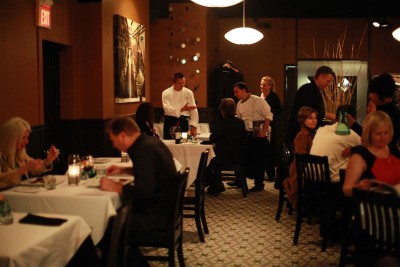 By Wini Moranville
Any night is a great night to visit Baru 66–especially if you're looking for detailed and precise French gastronomy. But if you're craving a more casual, everyday side of French food, check out Bistro Night at Baru.
On the first Wednesday night of the month (including tomorrow night, Feb. 3), chef David Baruthio serves a three-course fixed-price menu. Each Bistro Night menu is anchored by one French classic, such as coq au vin, choucroute garnie or trout amandine. On tomorrow night's menu: garlic spinach cream soup, roasted duck with orange and peppercorn sauce, and for dessert, vacherin glacé–an iced meringue with fresh fruit.
If that all sounds good, there's more to come. "My bistro nights are a prelude to an upcoming adjustment in the menu, which will feature a permanent and evolving classics section," Baruthio says.
Of course, classics in the hands of this chef are anything but standard. I enjoyed January's Bistro Night, featuring coq au vin. Baruthio's version raised the bar on the tried-and-true dish, thanks to a mix of wild mushrooms instead of the usual champignons de Paris (the dreamy French term for the usual white button mushrooms). Tomorrow night, look for a little escargot amid that spinach cream soup, along with–sans doute–other tweaks here and there. Baruthio is one of the most creative chefs in town, after all. He just can't help himself.
The three-course menu costs $35 per person, and includes a glass of wine. Baru 66 is at 6587 University Ave., Windsor Heights; 515-277-6627.
Related: Read Wini's recent article on what Baru 66 co-owner Sara Hill and other local restaurateurs have to say about reviews on Yelp.
Wini Moranville is a freelance writer who covers the food and dining scene for dsm. Follow her at All Things Food – DSM Wini Moranville.