What's on our calendar for March and April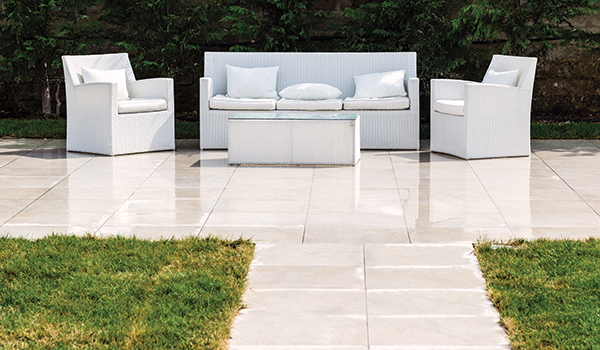 Expand …
… your home outdoors. Des Moines' erstwhile Home & Garden Show is adding a Home + Outdoor Living Show March 11-13 at the Iowa Events Center. The new event will showcase the popularity of treating deck and patio spaces as exterior rooms, with furniture and features similar to interior family rooms. Exterior kitchens, fireplaces and other built-ins are redefining outdoor living.
Celebrity experts will be on hand to share their perspectives on this trend. Television's popular renovation twins Drew and Jonathan Scott—HGTV's "Property Brothers"—will share their ideas and insights on March 12 only. Also, The Cooking Channel's "Fabulous Beekman Boys," Josh Kilmer-Purcell and Dr. Brent Ridge, will talk about leaving urban careers in favor of raising goats and producing soap and cheese at their farm in upstate New York.
Exhibitors are expected to include a full range of products and services, from building contractors to decorators.
Tickets are $7 online, $10 at the door ($4 for ages 7-12, free for younger children). Find details at desmoineshomeandoutdoorlivingshow.com.
---
Celebrate …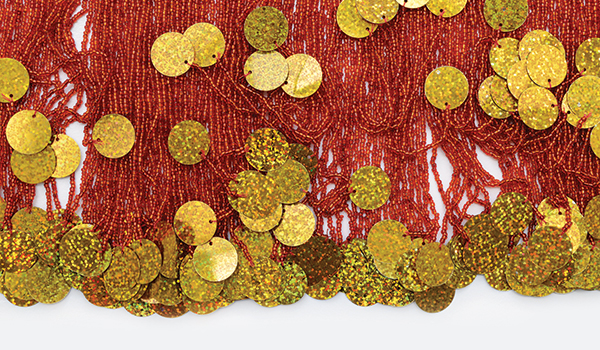 … the rich heritage and vibrant culture of India at Bollywood Ball, April 16 at the World Food Prize Hall of Laureates. The first-time event will mark the 10th anniversary of CultureALL, a nonprofit organization that provides multicultural programs in Central Iowa schools. "We want to showcase a culture so vibrant that it draws together people from the many different cultures living in our community," says CultureALL founder Sherry Gupta. The event will feature Bollywood-style fashion, East-West fusion dancing and music, classical sitar performances, the art of traditional mehndi hand ornamentation, and Indian-inspired appetizers and sweets. "We didn't want a sit-down dinner; we want people to mingle and get to know one another as they get to know Indian culture," Gupta says.
Tickets are $65 a person, available at CultureALL.org or by calling 515.273.8569. Proceeds will benefit the organization, which offers educational workshops and presentations not only in schools but also throughout the community.
---
March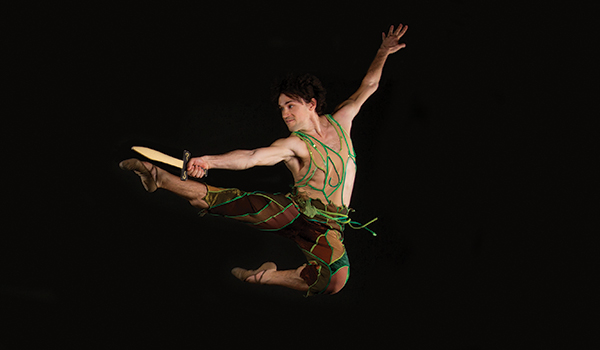 1 Life will surely be a "Cabaret" at the Tony Award-winning musical that tells the story of the infamous Kit Kat Klub in 1931 Germany. Presented by Des Moines Performing Arts. Through March 6 (times vary), Des Moines Civic Center. $35-$101; desmoinesperformingarts.org.
5 Groove to the show tunes of the 1960s and '70s at "Countdown to 100," the debut of a series leading up to the Des Moines Community Playhouse's 100th anniversary season in 2019. Playhouse actors will perform the musical review. 7:30 p.m., Des Moines Community Playhouse. $35; $97 for a VIP ticket; dmplayhouse.com.
11 Get ready for summer at the Home + Outdoor Living Show, a new event focusing on outdoor living. See story, page 32. Through March 13 (times vary), Iowa Events Center. $4-$10; desmoineshomeandoutdoorlivingshow.com.
11 Tennessee Williams' semi-autobiographical play, "The Glass Menagerie," tells the tragic tale of the Wingfield family, a faded remnant of Southern gentility. Presented by Repertory Theater of Iowa. Through March 27 (times vary), the Des Moines Social Club's Kum & Go Theater. $15-$30; rtiowa.com.
14 Novelist Christina Baker Kline will speak about her 2013 best-selling book, "Orphan Train," as part of the Des Moines Public Library's AViD (Authors Visiting in Des Moines) series. 7 p.m., Des Moines Central Library. Free admission; dmpl.org. Other author visits: Jacquelyn Mitchard, April 6; David Morrell, April 29; Pamela Smith Hill, May 11; and James Edward Mills, June 4. Times and locations vary; visit dmpl.org for details.
26 Family favorite "Peter Pan" (pictured) takes flight in a Ballet Des Moines performance. 1 p.m. and 6:30 p.m., Des Moines Civic Center. $18-$57.50; balletdesmoines.org.
---
April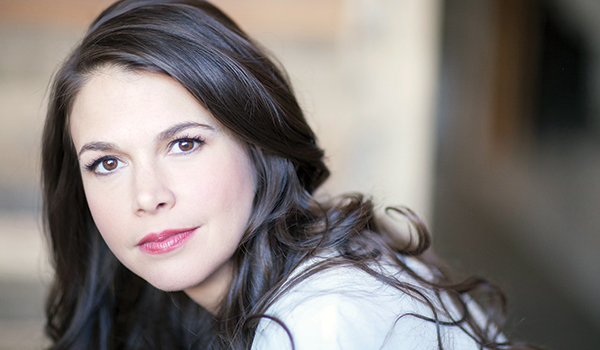 14 Architect Maya Lin, whose projects include the Vietnam Veterans Memorial and large-scale environmental works, will give an illustrated lecture about her work. 6:30 p.m., Levitt Auditorium at the Des Moines Art Center. Free admission, but reservations are required; desmoinesartcenter.org.
15 World-renowned pianist Jeremy Denk will perform Bach, Haydn, Beethoven, Schubert, Stravinsky and more. Presented by Civic Music Association. 7:30 p.m., Sheslow Auditorium at Drake University. $12-$50, civicmusic.org.
16 Bollywood Ball is a new event that will celebrate the 10th anniversary of CultureALL. See story, page 34. 8 p.m., World Food Prize Hall of Laureates. $65; cultureALL.org.
21 Contemporary dance company Bodytraffic has garnered acclaim for its dynamic choreography and athletic performers. 7:30 p.m., Des Moines Civic Center. $15-$57; desmoinesperformingarts.org.
26 Be among the first to get a copy of the May/June issue of dsm at the unveiling event hosted by Hotel Renovo. 5-7 p.m. (short program at 6 p.m.), Hotel Renovo, 11167 Hickman Road, Urbandale; hotelrenovo.com; dsmmagazine.com.
30 Tony Award-winning vocalist Sutton Foster (pictured) will perform with the Des Moines Symphony as part of the orchestra's pop series. 7:30 p.m., Des Moines Civic Center. $35-$133; dmsymphony.org.
---
Now and Then
All the construction around town is noisy testimony to the fact that Des Moines is constantly changing. The same was true a century ago. The Polk County Courthouse was just 3 years old and surrounded by low-slung commerce in 1909 when the 11-story Fleming Building rose to the northwest. Three years later, the 12-story Savings & Loan Building shaped the view that endures today.
Their appearance hasn't altered, but these local fixtures have seen changes within and around them. The courthouse was remodeled in 2014 for $2.5 million. The S&L Building is now bustling as the Midland Building, and the Fleming office building was reborn last year as a 100-unit residential property. Once the tallest office buildings in Iowa, both are now deep in the shadow of the 345-foot Financial Center to the west, which was also briefly the state's tallest building when it was completed in 1973.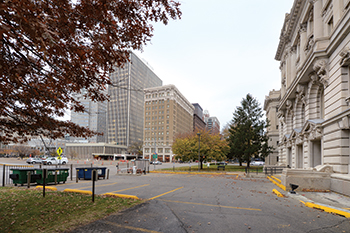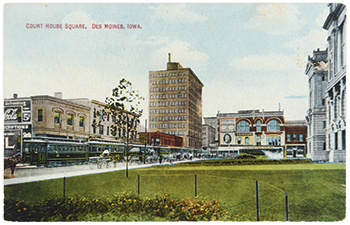 Postcard courtesy of Anthony Horvath
Photograph: Duane Tinkey